Community website by MBC/Ernest Abrams. Call 808-739-9797 for advertising/sponsorship.
Ongoing Events
Kakaako - Honolulu, Hawaii
Event Calendar Item

Ala Moana-Kakaako Neighborhood Board Meeting August 2017 Agenda

Type:

Community


Date:

Tuesday - 8/22/2017


Time:

7:00 p.m.


Location:


Makiki Christian Church
829 Pensacola Street
Honolulu, HI 96814


View Map


Cost:
With Permission / Courtesy of
: City and County of Honolulu Neighborhood Commission Office
<!#450IMAGESTART>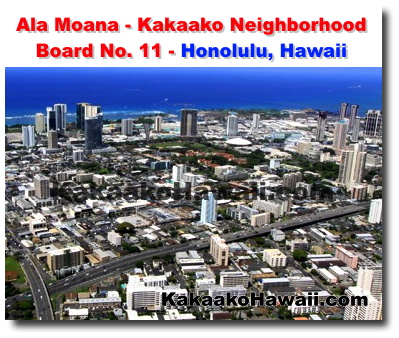 <!#450IMAGEEND>
REGULAR MEETING AGENDATuesday, August 22, 2017, 7:00 p.m.Makiki Christian Church829 Pensacola Street
Rules of Speaking: Anyone wishing to speak is asked to raise his/her hand, and when recognized by the Chair, to address comments to the Chair. Speakers shall keep their comments to under three (3) minutes, and those giving reports are urged to keep their reports to three (3) minutes or less. Please silence all electronic devices.
Note: The Board may take action on any agenda item. As required by the State Sunshine Law (HRS 92), specific issues not noted on this agenda cannot be voted on, unless added to the agenda. A two-thirds (2/3) vote (6) of this nine (9)-member Board is needed to add an item to the agenda. Adding an item to the agenda, however, is not permitted if (1) the item to be added is of reasonably major importance and (2) action on the item by the Board will affect a significant number of persons. Determination of whether a specific matter may be added to an agenda must be done on a case-by-case basis.
1. Administer Oath of Office for members, as necessary
2. Call to Order: Chair Ryan Tam
2.1 Roll call
3. Public Safety Reports
3.1 Honolulu Fire Department (HFD)
3.2 Honolulu Police Department (HPD)
4. Board Administration
4.1 Election of Vice Chair to serve through Saturday, June 30, 2018
5. Presentations (Three (3) to five (5) minutes each)
5.1 Neal Blaisdell Master Plan Center Update – Guy Kaulukukui, Director, Department of Enterprise Services (
www.imagineblaisdell.com/
)
5.2 Condominium Law Issues – Jane Sugimura, Hawaii Council of Associations of Apartment Owners
5.3 Honolulu Rail Transit Project Update, City Center Section – Pat Lee, Honolulu Authority for Rapid Transportation (
www.honolulutransit.org
)
6. Residents' and Community Concerns
7. Board Member Reports and Attendance at Other Meetings
7.1 Update on Biki installation
8. Elected Official Reports
8.1 Mayor Kirk Caldwell's Representative – Deputy Director Ian Santee, Honolulu Emergency Services Department
8.2 City Councilmember Carol Fukunaga
8.3 City Councilmember Ann Kobayashi – James Larson, staff
8.4 City Councilmember Trevor Ozawa – Kurt Tsuneyoshi, staff
8.5 State Representative Tom Brower
8.6 State House Speaker Scott Saiki – James Stone, staff
8.7 State Senator Brickwood Galuteria – Raytan Vares, staff
8.8 Governor David Ige's Representative – Cindy McMillan, Director of Communications
9. Agency Reports
9.1 Hawaii Community Development Authority (HCDA) – Garett Kamemoto
9.2 Honolulu Authority for Rapid Transportation (HART) – Pat Lee
9.3 Honolulu Board of Water Supply (BWS) – Michelle Foyt
10. New Business (Discussion/Action)
10.1 Discuss comments on Draft Environmental Assessment and Anticipated Finding of No Significant Impact for the Nohona Hale Affordable Rental Micro-Unit Housing Project
http://oeqc2.doh.hawaii.gov/The_Environmental_Notice/2017-07-23-TEN.pdf
10.2 Discuss comments on the Periodic Comprehensive Review of the Neighborhood Plan
10.3 Discuss comments on ProsPac Tower application (Keeaumoku Street/Makaloa Street)
10.4 Discuss high-rise residential fire sprinkler issues
11. Board Business
11.1 Approval of the July 25, 2017 Regular Meeting Minutes
11.2 Treasurer's Report
12. Permit Reviews, Hearings, and Applications
12.1 Proposed amendments to HCDA Kaka ako Reserved Housing Rules - Public hearing and decision-making on September 6, 2017 at 1:00 p.m., 547 Queen Street, 2nd Floor
12.2 ProsPac Tower (627, 629, 631, 641, and 651 Keeaumoku Street and 1518 Makaloa Street) – Public hearing regarding the Interim Planned Development - Transit and Special District Permit (Major) application on Thursday, September 14, 2017 at 10:30 a.m. in the Mission Memorial Auditorium (550 South King Street)
13. Announcements
13.1 Walk #5: The Living Archive – Walking tour and living history experience of Kaka'ako to be held on Saturday, August 26, 2017 and Saturday, September 2, 2017; registration required at www.88blockwalks.com.
13.2 Next Meeting – The next regular meeting of the Ala Moana/Kaka ako Neighborhood Board No. 11 is scheduled for Tuesday, September 26, 2017 at 7:00 p.m. at the Makiki Christian Church.
13.3 lelo Broadcasts – Broadcasts of the Ala Moana-Kaka ako Neighborhood Board No. 11 meetings are on lelo 49 on the first and third Thursdays at 8:00 a.m. and every second Sunday at 6:00 p.m.
13.4 No Loitering – Please do not loiter on Makiki Christian Church grounds after 9:00 p.m. Mahalo.
14. Adjournment

• Community Neighborhood Watches:
o Mother Waldron Park (525 Cooke Street) – Mondays, 6:00 p.m. (Early Summer Schedule);
o Sheridan Park (833 Pi ikoi Street) – Monday/Tuesdays, 7:00 p.m.;
o Keola La i Condominium (600 Queen Street) Tuesdays, 5:15 p.m.;
o Kolowalu Park (1177 Queen Street) – 1st and 2nd Thursdays, 6:00 p.m.
• A mailing list is maintained for interested persons and agencies to receive this Board's agenda and minutes. Additions, corrections, and deletions to the mailing list may be directed to the Neighborhood Commission Office (NCO) at Kap lama Hale, 925 Dillingham Boulevard, Suite 160, Honolulu, Hawaii 96817; Telephone (808) 768-3710 Fax (808) 768-3711; or call Neighborhood Assistant K. Russell Ho at (808) 768-3715 or e-mail kho4@honolulu.gov. Agendas and minutes are also available on the internet at www.honolulu.gov/nco.
• Any individual wishing to attend a Neighborhood Board meeting who has questions about accommodations for a physical disability or a special physical need should call the NCO at 768-3710 between 8:00 a.m. and 4:00 p.m. at least three (3) days before the scheduled meeting.
• All written testimony must be received in the Neighborhood Commission Office 48 hours prior to the meeting. If within 48 hours, written and/or oral testimony may be submitted directly to the Board at the meeting. If submitting written testimony, please note the Board and agenda item(s) your testimony concerns. Send to: Neighborhood Commission Office, 925 Dillingham Boulevard, Suite 160, Honolulu, Hawaii 96817. Fax: (808) 768-3711. Email: nbtestimony@honolulu.gov.
Ongoing Events
---
Please send questions about this website to